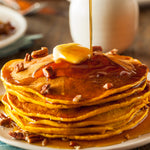 Ingredients
2 cups all-purpose flour
2 Tbs brown sugar
1 Tbs baking powder
½ tsp sea salt
½ tsp ground cinnamon
¼ tsp baking soda
¼ tsp ground nutmeg
¼ tsp ground ginger
1 ½ cups milk
1 cup cooked pumpkin (canned works perfect if you don't have fresh on hand!)
2 egg yolks
3 Tbs melted butter
1 tsp orange peel zest
2 egg whites 
Instructions 
Cider-Maple Syrup – recipe to follow.  As an option over "just" pure maple syrup
In a mixing bowl combine flour, brown sugar, baking powder, sea salt, cinnamon, baking soda, nutmeg and ginger.  In a separate bowl combine milk, pumpkin, egg yolks, butter and orange zest.  Add pumpkin mixture to flour mixture, stir until JUST combined but still lumpy.
In a medium mixing bowl beat egg whites until stiff peaks form.  Gently fold beaten egg whites into batter, leaving a few puffs of white, do not over mix!
Heat grill to a medium heat and grease with butter.  Pour approximately ¼ cup of mixture per pancake.  Turn pancake when you see bubbles starting to appear on the surface and edges are slightly tanned.  Cook about 2 minutes per side.  Makes approx. 16 pancakes depending on your size preference.
Cider-Maple Syrup Instructions
1 cup apple cider
1 cup pure maple syrup
In a small saucepan combine apple cider and maple syrup.  Bring to a boil, then simmer uncovered for 15 minutes or until thickened slightly (you should have about 1 cup of syrup after boiling)
As a side note, I am a bit of a Maple Syrup Snob!  We only use real maple syrup on our pancakes and waffles, I would rather use less and spend a bit more as I find the fakes are just that….imposters!
Buon Appetito,
Cynthia