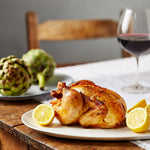 Ingredients 
8 Lemons, Halved
10 Garlic Cloves
1 1/2 Tsp Salt and Pepper Each
8 Baby Artichokes
1/4 Cup of Extra Virgin Olive Oil
1/4 Cup of Fresh Basil Leaves 
Instructions
Trim and clean the artichokes. Place them in a bowl of water with 4 lemon halves and the lemon juice squeezed from the lemons.
Bring pot of salted water and the juice of 2 more lemons to a boil. Add artichokes to the pot and simmer until artichoke leaves come off easily, approximately 10-15 minutes. Blanche and drain artichokes. Halve and remove the chokes of the artichokes.
Preheat oven to 400F.
In a roasting pan, stuff the chicken with 4 garlic cloves, 2 lemon halves, the salt and pepper. Toss the remaining lemons and garlic cloves around the chicken. Place in oven and roast for 30 minutes. Turn heat down to 300F, and baste chicken with juices. Add the artichokes to the roasting pan and roast for another 30-40 minutes, basting occasionally. 
Remove from oven and baste again.
Remove the chicken from the roasting pan, place on cutting board and tent with tin foil for 10-15 minutes before carving. Place roasting pan on low heat and simmer the artichokes and juices gently. 
Sprinkle with fresh basil and serve with the chicken.