Our Canadian family of RancheRS
At Beretta Farms, we pride ourselves on raising our animals much like we raise our own family – with care, compassion and commitment. When we started this business more than 25 years ago, all of our animals were raised on our 800 acre home farm in King City, ON. This farm is fully sustainable, certified organic and embodies the traits that set Beretta apart.
While the King City farm is still fully functional, we have expanded our network to include other family farms across the country who we know and trust. These farms were hand selected for our animals to be raised on, as we know they adhere to the same rules and beliefs that we do, along with passing several strict annual audits. All of our farms are committed to raising Beretta animals with the highest concerns for their welfare. We hold ourselves to the highest audited standards that we can and we are continually exploring ways to further enhance the quality of life for all our animals.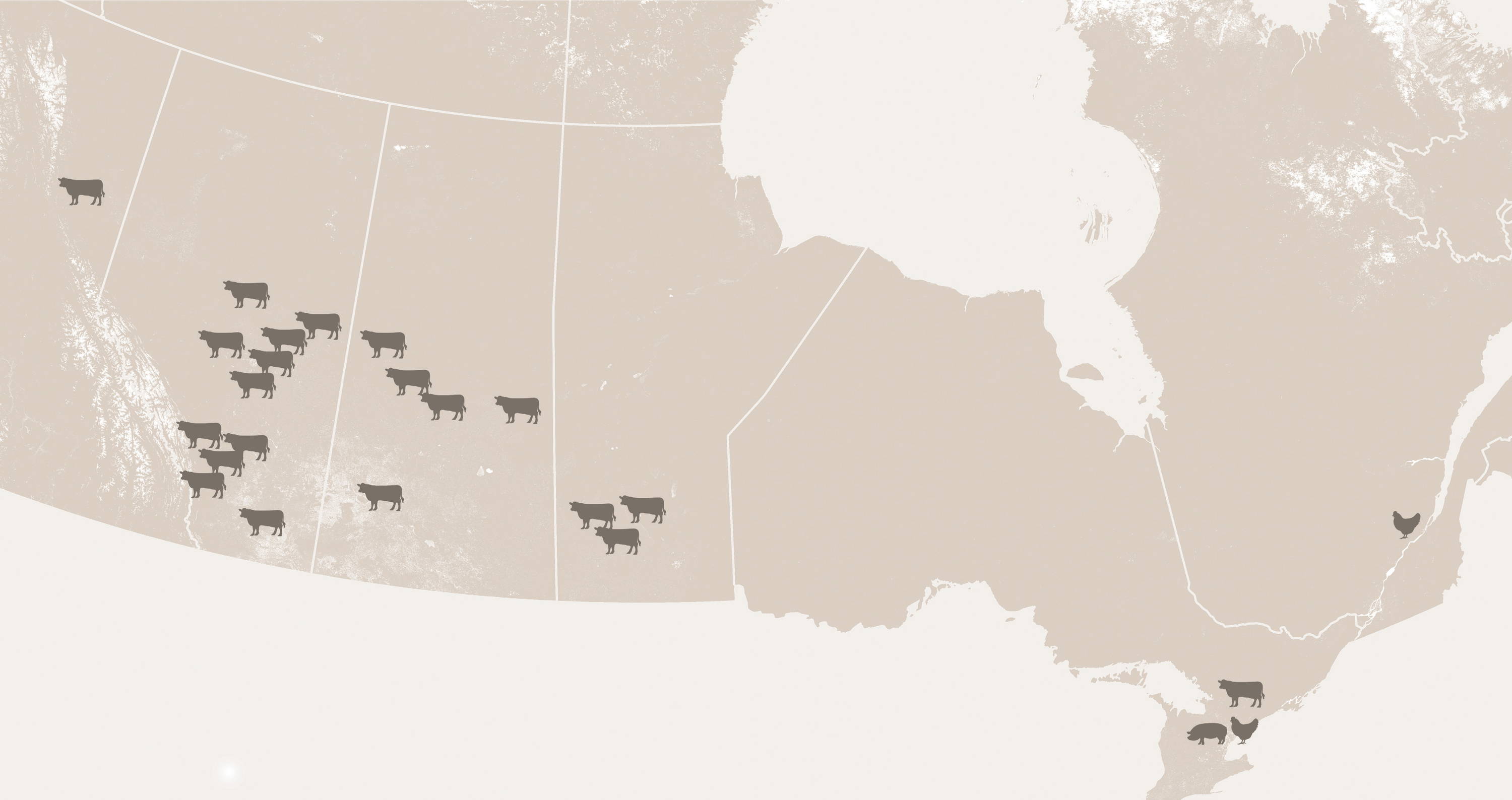 Beretta Ranch

King City, Ontario

W Over Diamond Ranch

Armena, Alberta

Hummock Springs Ranch

Watrous, Saskatchewan

98 Ranch

Lake Alma, Saskatchewan

CJ Ranching

St. Walburg, Saskatchewan
W Over Diamond Ranch
Armena, AB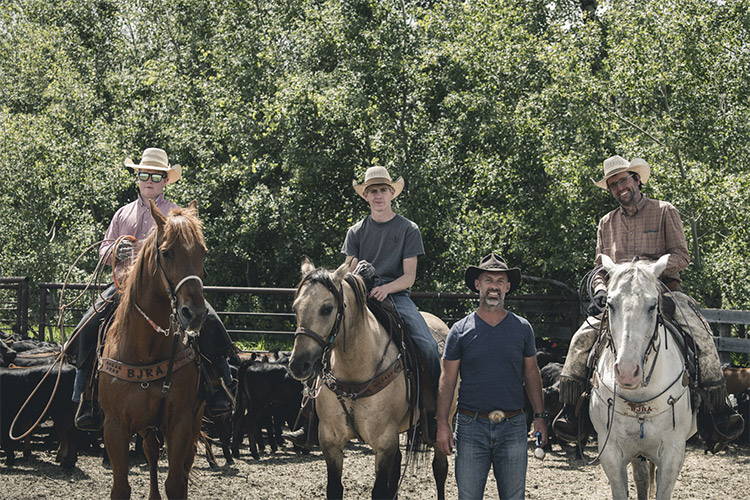 Inspired by tradition and driven by passion, Walter Farms shares many of the same core values as the Beretta family, making them a perfect partner when it comes to our goal of providing a premium Angus beef product.
Based in the Canadian prairies in Armena, Alberta, Walter Farms is a partnership of five ranching families. The men running the current business are no strangers to the pasture; all of their dads were either livestock or dairy farmers along with being neighbours.

So not only are the ranchers behind Walter Farms business partners, they are also lifelong friends. The story began when Ed was in his teens. Always knowing he wanted to be a cowboy, at the age of 17 he found a rancher that he made an agreement to feed 20 pregnant cows daily, in return for being able to keep 12 of the calves from each year.
He was hooked! Slowly, he grew his little herd and this was the basis of the group's now large operation. Since day one, all of the ranchers working under the Walter Farms name have been raising their cattle without antibiotics, added hormones or steroids with the belief that this is the most natural way to rear cattle.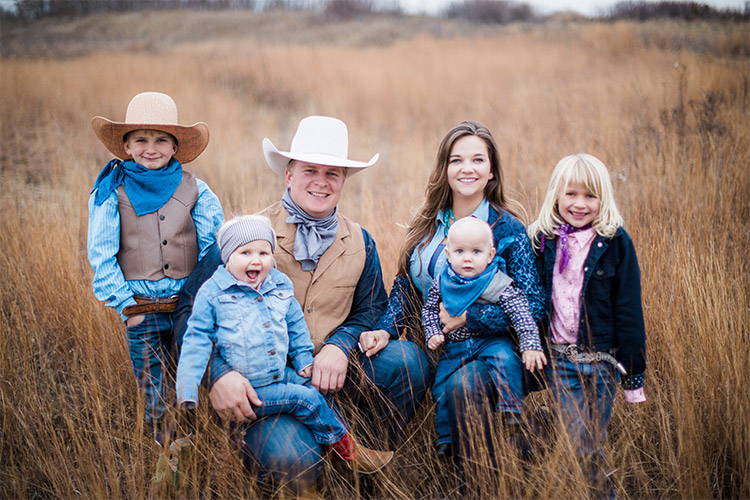 As a 4th generation family operation, the Toews farm, run by Howard and Brad Toews, is based out of Watrous Saskatchewan and raises cattle for the Beretta program. Howards grandfather started the farm in 1928, passed it to Howards father Rudyin 1952 and then Howard and his wife Lucille began ranching in 1977. Over the years the farm has slowly transitioned from having cattle and crops to being a fully cattle based operation.
In 2005, Howards son Brad and his wife Angel joined the operation and the father – son team continues to operate the farm today. As the cattle industry changes and grows, the Toews stay true to their core values of good stewardship of land and resources, and ethical and humane treatment of all animals entrusted to their care. When it comes to raising Beretta cattle, we take great care and pride in selecting our farming partners carefully. Partnering with the Toews was an obvious and 'natural' fit.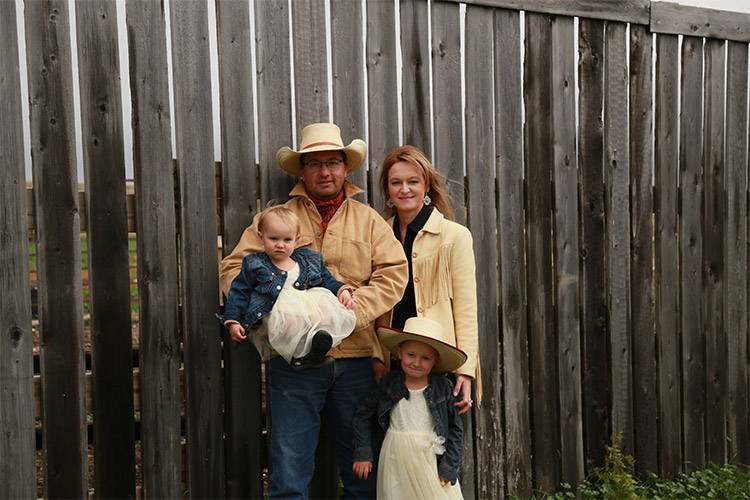 98 Ranch Inc. is a first generation ranch, located in Saskatchewan, Treaty 4 Territory, Canada. The ranch is a cow/calf/yearling & grassfed operation built on a foundation of rangeland health and low-input cattle selection. Cattle are selected to thrive under a variety of grazing situations with very little supplemental feed. The focus is designed to allow these cattle to generate profit through grazing and converting forages into beef while facilitating grassland ecological function that includes soil health, increasing effective precipitation, grassland resilience, wildlife habitat & biodiversity.
CJ Ranching
St. Walburg, SK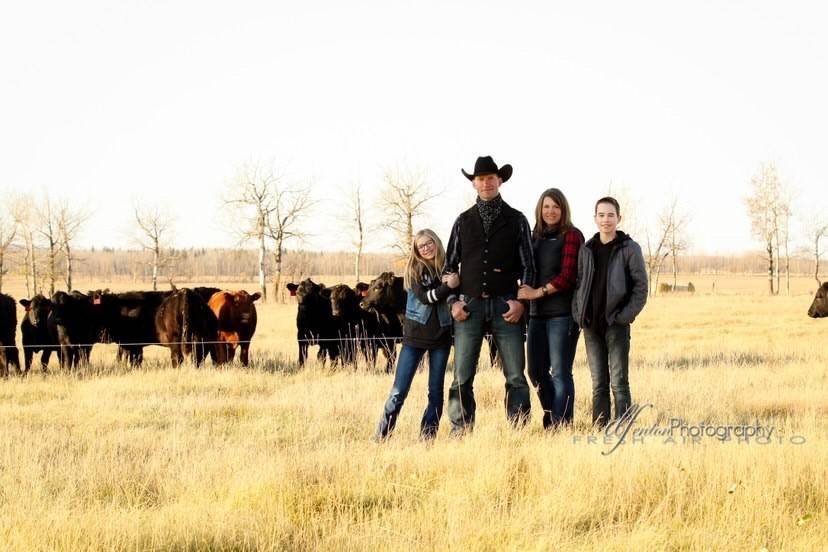 CJ Ranching is owned and operated by John & Deanne Chuiko along with their two kids, Matt and Rylee. The ranch is located North of St. Walburg, Saskatchewan along the Bronson Forest. Matt and Rylee are the fourth generation to be raised on the original homestead. Holistic Management is an important part of their ranching operation and decision making process. They run a cow/calf, long yearling operation with a strong emphasis on soil health and believe in working as close to Mother Nature as possible.