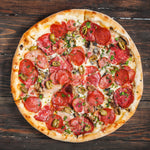 My Secret to the perfect pizza? Beretta Salami & a touch of love. I've paired this pizza with Beretta's antibiotic and hormone free beef salami with some of my other favourite Italian flavours. This combination is near and dear to my own Italian roots and I hope you enjoy it as much as I do.
Serves: 1 (12 inch) pizza
Ingredients
QUICK HOMEMADE PIZZA CRUST (12 inch pizza)
1 1/2 cups (355 mL) warm water (105°F–115°F)
1 package (2 1/4 teaspoons) of active dry yeast
3 3/4 cups (490 g) bread flour
2 tablespoons olive oil
2 teaspoons salt
1 teaspoon sugar
Toppings
2 cups mozzarella cheese
100 g Beretta Sliced Salami
2 cups pizza sauce
4-5 green olives sliced
5 Chili peppers
1/3 cup fresh parsley
2 flat mushrooms, sliced
Directions
Place warm water in the large bowl of a heavy duty stand mixer. Sprinkle yeast over the warm water and let sit for 5 minutes until the yeast is dissolved. If yeast hasn't dissolved completely after 5 minutes, stir. Yeast should begin to foam, indicating that it is still active and alive.
Using the mixing paddle attachment on a low speed, mix in the flour, salt, sugar, and olive oil for one minute. Then replace the mixing paddle with the dough hook attachment. (This can also be done by hand.)
Knead pizza dough on low speed using the dough hook for 7-10 minutes.
Dough should be a little sticky to the touch. If it's too wet, sprinkle in a pinch of flour.
Coat the inside of a large bowl with a thin layer of olive oil. Place the pizza dough in the bowl and flip to cover both sides in oil. Cover the dough with a towel. Let dough rise for at least 1 and a half hours in a warm place.
Preheat oven to 425 F.
When the dough has risen, spread pizza sauce on and top with olives, mushrooms, cheese, chili peppers and Beretta salami.
Bake for 15 minutes or until the crust in the center is fully cooked.
Garnish with fresh Parsley.
Buon Appetito,
Cynthia