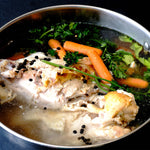 Ingredients
Turkey bones
Any fat excess that fell from the bird
2 organic celery stalks quartered
2 organic carrots peeled and quartered
1 large organic onion, quartered (skin on)
2 garlic cloves (skin on)
2 bay leaves
3 sprigs of parsley
5 whole pepper corns
Instructions
In a 10L pot, add all ingredients and cover all ingredients with filtered water. Bring to a boil then reduce to a simmer for 5 hours.
Let completely cool.  Skim off fat before draining, drain, then put half of the fat back in. Et voila! Easy peasy, and ready to use immediately or freeze for future soups. Enjoy!
Bonus Tips:
Remove all pieces of turkey from the carcass once your stock is complete. This is beautiful meat that can be used in future pot pies of turkey soups!
Grandma really did know best! Homemade chicken, turkey and beef stock are amazing at increasing immunity and healing the gut. For those who have digestive issues, enjoying homemade soups weekly can really make a positive impact on your healing journey.