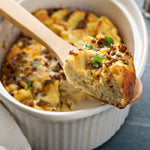 Ingredients
1lb Antibiotic Free Maple Breakfast Sausage - Removed from Casing

10 Eggs - Beaten
2 ½ Cups of Milk
1 Tsp. of Sea Salt
1 Tsp. of Ground Mustard
8-9 slices of Brioche Egg Bread Cut into ½ Inch Cubes
2 Cups of Shredded Sharp Cheddar Cheese
½ Cup Chopped Green Onions
Freshly Ground Pepper for Seasoning
½ Cup Shredded Cheddar Cheese for Topping
Instructions
Grease a 9 x 13 inch baking dish.
Heat a large skillet over medium-high heat and stir in bulk sausage. Cook and stir until sausage is evenly browned and no longer pink, about 10 minutes. Set aside to cool.
Combine beaten eggs in a large bowl, with milk, salt, pepper and mustard. Fold in bread cubes, cheddar cheese, green onions and cooked sausage into egg mixture. Pour entire mixture into the greased baking dish. Cover and refrigerate for 8 hours or overnight. 
Christmas morning: Preheat oven to 350 degrees. Remove casserole from fridge and remove cover about 30 minutes before placing it into the oven to get to room temp. Use reserved ½ cup cheddar cheese to top it off.
Bake in the pre-heated oven until a knife inserted near the center comes out clean, about 50 minutes.