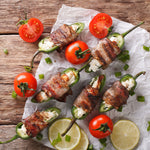 Ingredients
1/3 Cup Parmesan – Grated
1/3 Cup Cream Cheese
½ Tsp Ground Pepper
12 large Jalapenos – Roasted and Peeled
1 ½ Cup of Flour
2 Eggs Mixed with a ¼ Cup of Water
1 ½ Cups of Panko
6 Slices of Antibiotic Free Artisanal Thick Cut Bacon Cut into Halves
Instructions
Cut the top off the jalapeno 90% of the way through. Using a pairing knife remove the seeds.
Combine bacon bits, parmesan, cream cheese and pepper. Pipe the mixture into the jalapenos until they are just filled.
Bread the stuffed Jalapenos by rolling them in the flour, shaking them off and then dropping them in the egg mixture. Then let them drip off slightly before rolling in the Panko.
Carefully wrap a ½ slice of bacon around the breaded Jalapeno and fasten with a toothpick. Deep fry at 350 f until golden and the bacon is crisp. Place on paper towel to absorb any residual grease. 
Serve while hot.