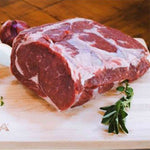 This is the perfect Easter recipe and goes with all kinds of sides for your Easter brunch or dinner.
Ingredients: 
1 – 6 lbs Beretta Beef – Rib Eye Roast
1 Cup of Red Wine – your favorite kind
1 Cup Beef Stock
½ Cup freshly squeezed lemon juice
½ cup Dijon Mustard
¼ cup olive oil
¼ cup garlic, finely chopped
1 cup onion, finely chopped
2 tsp freshly ground pepper
2 tsp sea salt
Preheat oven to 350 degrees.  Please oven rack in the middle of the oven.  In a large bowl combine all the ingredients in a large bowl.  Place roast in a medium roasting pan and pour marinade all over it.  Place in pre-heated oven uncovered.  Roast for 15 minutes per pound or until internal temperature reads 165.  Continue to baste the roast every 15 minutes.  Try to not baste the last 20 minutes so that you get a lovely crust that will be shared with our guests on every delicious slice you serve.
Once done, remove from oven and cover with foil to let the roast rest for 15 minutes.  This recipe is divine with my Garlic Buttermilk Mashed Potatoes and Maple Glazed Carrots!
Buon Appetito Tutti!