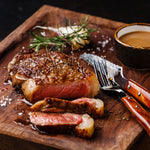 Ingredients
**marinade the steak preferably overnight or at least 2 hours**
1/4 cup olive oil
4 cloves of garlic, minced
1/4 cup grainy Dijon mustard
6 tbsp fresh rosemary and thyme, chopped
2 tsp kosher salt
2 tsp fresh black pepper
1 cup Pinot Grigio wine
8 tbsp (1/2 cup) herbed butter
2 tbsp Winter Inspired Beef Rub
Herbed Butter 
1/2 cup unsalted butter, room temperature
2 tbsp fresh rosemary, chopped
1 tbsp fresh thyme, chopped
2 tsp fresh basil, chopped
2 tsp fresh lemon zest
1/2 tsp kosher or Maldon salt
1/2 tsp fresh black pepper
Mushrooms and Onions
1 1/2 mixed mushrooms including cremini
1/2 lb pearl or cipollini onions
4-6 springs of fresh thyme
1 tsp kosher salt
1 tsp fresh black pepper
Instructions
Combine olive oil, garlic, mustard, herbs, spice rub, salt and pepper in small mixing bowl.
Cover all parts of the steak with the marinade, place on plate or in baking pan, cover with plastic wrap and let rest in the fridge until 1 hour before cooking.
Meanwhile, prepare herbed butter in small mixing bowl.
Mix fresh herbs, lemon zest, salt and pepper into the softened butter. Transfer to small dish and keep in fridge until ready to use.
Bring steak and butter to room temperature, preheat oven to 400 degrees F.
Heat a large oven proof frying pan (a cast iron skillet is ideal) over med high heat, and add 2 tbsp of the herbed butter.
Add the mushrooms and onions, season with salt and pepper and sauté for 10 min or until softened and lightly golden brown.
Remove the mixture from pan, and set aside.
In the same pan, add 3 tbsp of herbed butter, and sear the steak for 3 minutes per side.
Flip the steak and sear the second side, adding the remaining 3 tbsp of herbed butter to the top of the steak.
Transfer the mushrooms, onions, as well as any juices and the sprigs of thyme back to the pan surrounding the meat.
Pour 1/2 cup of the wine over the mushrooms and onions and transfer to oven and roast for 10 minutes.
Remove pan from oven, add remaining 1/2 cup of wine.
Transfer steaks to cutting board, tent with tinfoil for 10-15 min to let the meat rest.
Take out the thyme springs, and deglaze the pan with the mushrooms, onions and wine.
Serve steaks immediately with the mushrooms, onions and jus.