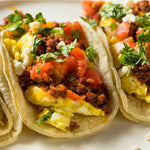 Ingredients
2 Beretta Maple Breakfast Sausage Links
4-6 farm fresh eggs • 1/3 cup of milk
Your favourite grill-able veggies, diced and sliced into LARGE pieces. (jalapeños, red bell pepper, red onions and cherry tomatoes)
2 tbsp of olive oil
Whole grain tortillas
Avocado (sliced) • Salsa of choice • Shredded cheese – your choice of cheese
Cilantro
Salt & pepper for seasoning, if desired Method:
Instructions
Clean and oil the grill. Preheat to 400F for direct heat cooking.
Toss steak in spices. Depending on size grill for 4-6 minutes on one side then 6-8 on the other to achieve medium doneness.
Set steak aside.
Toss diced vegetables with olive oil, and season with salt and pepper if desired.
Place vegetables directly on grill and cook for about 3 minutes on each side, or until they are just tender.
Remove from the grill and allow them to cool for about 5 minutes. Dice and slice into smaller bite sized pieces.
While the vegetables are cooling it's time to scramble your eggs. Whisk together eggs and milk. Poor mixture slowly into a preheated pan. Gently 'pull' eggs across the pan as they begin to cook. Do this until eggs are fully cooked (usually about 3 minutes).
Grill your tortillas about 1-2 minutes per side, or until grill marks appear. • Assemble tacos – spread a thin layer of salsa across the tortilla. Then pile your veggies, steak, scrambled eggs, avocado and cheese. Fold the other half over. Enjoy!