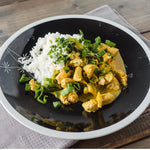 You can vary the amount of curry used, depending on how spicy you like your dishes. This is one of the Beretta's favourite leftover meals!
Ingredients
1 Cup Brown and wild rice blend, cooked according to package directions, for 2 cups cooked rice
2 Cups chicken broth
4 Tablespoons butter
2 Tablespoon whole wheat flour
1 large onion, diced
2 garlic cloves, finely chopped
2 teaspoons curry powder, or paste
2 ½ cups diced cooked turkey
1 Cup sour cream or greek yogurt
½ bunch cilantro, finely chopped, for garnish
Instructions
In large skillet melt butter and add chopped onion and garlic.  Brown for 5-6 minutes on medium heat.  Add flour and curry, mix thoroughly.    Slowly add broth and whisk while adding.  Mixture should start to thicken.  Add diced turkey and heat through.  Lower temperature and add sour cream to mixture.  Once sour cream is mixed, remove from heat and cover.  Serve over cooked brown rice and garnish with cilantro.  Serves 4 people.
Buon Appetito,
Cynthia