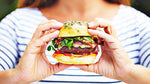 Prep Time
10 Minutes
Serves
6 People



Ingredients
1 small onion, chopped finely
2 garlic cloves, chopped very finely
2 eggs, slightly beaten
½ Cup cooked Quinoa
2 Tbs Unsalted Butter, cut into small pieces
¼ Cup parsley, finely chopped
Sea salt
Freshly ground pepper
Brioche Buns (essential buns!)
Directions
Mix all the ingredients together in a large bowl, careful not to overmix. Gently shape into 8-10 patties, depending on how big you want them. Grill over medium-high heat for 5-6 minutes per side for medium-rare, add salt and pepper to taste before serving. Serve on the brioche buns with your pick of toppings.
Toppings
Beretta Bacon (another Essential)
Selection of Provolone, Cheddar and Parmigiano-Reggiano Cheeses
Thinly sliced tomatoes, red onions, dill pickles
Selection of fresh greens, arugula, boston and romaine lettuces
Sauteed mushrooms, in butter and wine sauce reduction
Condiments: ketchup (if we don't have ketchup and cheese in the house, apparently we have NO groceries!), mayo, mustard and a home-made relish if you have.
Buon Appetito,
Cynthia