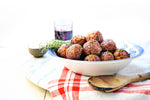 Prep Time
10 Minutes
Serves
6 People
Ingredients
1 egg, beaten
1/4 cup milk
2 TB worcestershire
1/4 cup panko
1/4 cup freshly shredded parmesan cheese
2 TB fresh parsley, minced
2 teaspoons Italian seasoning
1 teaspoon oregano
1 teaspoon fresh shredded basil (dry is okay for a substitute)
2 cloves of crushed garlic (feel free to add more if you're a garlic lover like me!)
1/2 teaspoon smoked paprika

Salt and pepper to taste
Directions
In a large bowl, combine all the ingredients together, and use your hands to really work it all in.
Line a large baking sheet with parchment paper.
Start making golf ball sized meatballs and layout on your baking sheet
Once you have rolled all the meat out, place the baking sheet in the freezer for about 2 hours, until meatballs feel firm.
Transfer the meatballs into bags and freeze until you're ready to enjoy them! I recommend reheating them at 350 degrees for 15-20 minutes. They will last in the freezer for up to a year.
Buon Appetito,
Cynthia