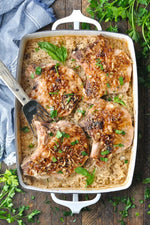 This is an old recipe that I always go back to every fall.  Something about the pork & rice and veggie combination and it cooking in the oven are so welcoming on a cool fall day.  This is a simple and complete meal, make a quick salad as a side and you are good to go!
Ingredients
4 thick cut Beretta Farms pork chops (butt or loin chops will work)

1 cup raw jasmine rice

2 Cups of chicken stock

1 large onion, cut into thin rings

1 large green pepper, cut into thin rings

1 tbsp freshly cut thyme

Sea Salt and freshly ground pepper

2 tbsp olive oil

1 tbsp butter
Instructions
Pre-heat oven to 350 degrees.  Heat olive oil in pan to med-high heat and brown pork chops, approximately 2 minutes per side.  Transfer to plate.  Use 1 tbsp. butter to grease 9X13 casserole dish. Layer raw rice evenly into the greased casserole dish.  Layer browned pork chops on top of rice.  Top the chops with onion and pepper rings.  Pour chicken stock all over the chops and veggies.  Sprinkle with fresh thyme, sea salt and ground pepper.  Cover and bake for 45 minutes.
Buon Appetito.
Cynthia