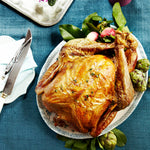 My first Thanksgiving with Mike's family I fell in love with my mother-in-law's stuffing recipe. The only thing I have changed is the sausage and the bread used. Some things just don't need changing. It is still to this day, almost 30 years later, one of the families most loved and essential recipes for our Thanksgiving meal. 
Ingredients
1 lbs Beretta honey garlic sausage, casings removed
1 Cup onions, finely chopped
½ lbs sliced mushrooms
1 ¼ Cup celery and celery leaves, finely chopped
1 garlic clove, minced
½ Tbsp dried sage
½ Tbsp dried thyme
½ Cup fresh Italian parsley, finely chopped
15 Cups bread, cut into 1 cm cubes, I usually use a whole wheat and honey loaf
½ Cup chicken stock if needed
Instructions
Saute sausage, onion, mushrooms, celery and garlic.  Continue to cook until sausage is cooked about 10-12 minutes.  Add sage, thyme and parsley, mix well.  Gradually add the cubes of bread the sausage mixture until all is blended together, add the stock if the mixture is too dry. 
1 – 20 lbs organic Beretta turkey
Complete the recipe for the sausage and mushroom stuffing, wait for it to cool.  Once cooled stuff the cavity of the turkey by taking a handful of stuffing at a time and placing it inside the cavity.  Stuff the bird, placing the first handful at the back and working to the front.  If you have stuffed the bird completely and you still have extra, place the extra stuffing under the skin by the neck and wrap the skin under to cover the stuffing. 
Place the stuffed bird into a large roasting pan and add approximately 2 cups of water to the bottom of the pan.  Cover bird with lid or tin foil.  Make sure to cover and seal the entire bird.  In a pre-heated oven of 325, place the roasting pan on the bottom rack.  Keep the turkey covered until the last 20 minutes of estimated cook time, then remove the lid or foil. Cook for 15 minutes per pound, basting every 45 minutes for the first couple of hours and then every half hour after.  A 20 lbs turkey will take approximately 5 hours to cook depending on your oven.  I have always tested to doneness by probing the thigh meat, without touching the bone.  When the temperature is 165 and the juices run clear, remove the turkey from the oven.  Cover again with lid or foil, covered and the turkey will continue to cook as it cools.