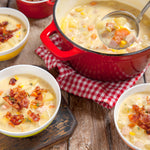 Corn and bacon, what can go wrong?  Sweet corn in the early Fall is simply one of the Earth's great gifts to us.  And bacon just makes everything better.  We are a bit spoiled on the farm with this recipe.  I use Bessie's fresh milk and her beautiful cream to finish this soup.  If you have the opportunity to try with fresh dairy products, take my word, it is heaven.
Ingredients
1 lb, thick cut Beretta bacon, chopped into small pieces

1 large onion, finely chopped

1 large celery stock, finely chopped

1 large carrot, finely chopped

8 cups chicken stock, organic or home made

8 cups corn kernels (from 10 ears of corn)

7 medium potatoes, peeled and cut into small bite size pieces

1 red bell pepper, chopped finely

2 fresh thyme sprigs

3 cups whole grass fed milk

2 cups heavy grass fed cream

3 green onions, finely chopped

2 cups grated old cheddar cheese

Sea salt and freshly ground pepper to taste
Instructions
Cook bacon on the stove top over medium heat.  Use Dutch oven to control the splatter of oil on your stove top.  Once bacon is browned, remove bacon with a slotted spoon and set aside on a plate with paper towel to absorb some of the oil.  Keep half the oil from the bacon in the pot.  Add the onion, celery, and carrot to the bacon oil.  Saute for 5-7 minutes, until they start to brown.  Add 1 cup chicken stock to the vegetables, and deglaze to remove all the lovely brown bits from the bottom of the dutch oven.   Once deglazed, add the remaining stock and bring to a boil.  Once boiling add the corn, potatoes, pepper and thyme sprig.  Bring back to a boil and then reduce heat to a simmer until the potatoes are cooked, about 10 minutes.  Once the potatoes are cooked reduce heat and milk, cream, salt and pepper. Over medium heat, bring chowder slowing up to a nice hot temperature.  You don't want it to boil.  Remove from heat.  Remove thyme sprigs.  I usually use my hand mixer here and blend a bit of the chowder just to make it creamy, it is completely your preference.  Ladle the chowder into large bowls and garnish with bacon, chopped green onions and cheddar.  So yummy!
Buon Appetito,
Cynthia