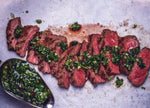 Prep Time
10 Minutes
Serves
6 People

Having made several trips to Peru over the years, this is a sauce that is served with almost everything Beretta Hotdogs and Beretta Burgers never hit the table without me making this fresh. Using all the fresh herbs from the garden in the summer, it always turns out to be sensational.
Ingredients
1 bunch chopped Italian parsley
1 bunch chopped cilantro
3 Tbsp chopped oregano
2 tsp finely chopped garlic
1 finely chopped shallot
1 ½ tsp brown sugar
Freshly squeezed juice from 2 limes
Pinch of crushed red pepper
Pinch of salt and pepper
5 oz red wine vinegar
5 oz olive oil
Directions
Chop parley, cilantro and oregano and blend them together. Put the herbs in a bowl and add garlic, shallot, sugar, lime juice, red pepper, salt, pepper, vinegar and olive oil. Whisk it all together and serve on your favourite Beretta hotdog!
Buon Appetito,
Cynthia