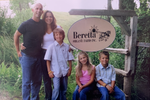 At Beretta Farms, we pride ourselves on raising our animals much like we raise our own family – with care, compassion and commitment.  When we started this business more than 25 years ago, all of our animals were raised on our 800 acre home farm in King City, ON.  This farm is fully sustainable, certified organic and embodies the traits that set Beretta apart in the cultivation industry.  Now, as the business demand has grown, along with our herd sizes, 800 acres in Ontario just does not cut it anymore.  While the King City farm is still fully functional, we have expanded our network to include other family farms across the country who we know and trust.  These farms were hand selected for our animals to be raised on, as we know they adhere to the same rules and beliefs that we do, along with passing several strict annual audits.
Offering a lifestyle that is pure and evolutionary, all of our farms are committed to raising Beretta animals with substance. All of the animals have access to open pastures for grazing and roaming, and grow slowly and naturally. Beretta Farms is certified organic by EcoCert.  
What does certified organic mean?
No pesticides or chemical fertilizers are used in the growing of animal feed
Raised in Canada, from birth to finishing
Animals are fed from crops grown on land that has not been sprayed for a minimum of 3 years
No Genetically Modified Organisms (GMO's) are permitted in animal feed
No antibiotics or growth hormones (implants) are permitted
No animal by-products are permitted in the animal's feed
Third party verification and inspection are required by an accredited certifying body
Thorough audit trail is required to trace all certified organic products back to farm origin
Farm must monitor soil and water quality at all times
Organic processors must maintain and update an Organic Processing & Handling Plan
Everything in nature is linked: the feed and land are as important as the way the animal is raised. As a family run farm, we understand the importance in providing sustainable sources of nutrition and nourishment. As a health and wellness company, we also believe it is important that you understand how your products are prepared and where they come from. Shop our Certified Organic Beef below.