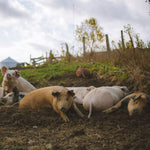 If you are not already familiar with the Mike and Cynthia story, it all started with two pigs. Literally, two pigs! Flash forward more than 25 years, and here I am continuing the tradition of raising pigs and other wholesome alternatives for families.
Porcus, swine, pig, and hog all refer to the rotund oval like shaped mammal with a wiggly tail and round belly.
Our Signature Reserve Pork is unlike your ordinary pork products. It is a limited-edition line raised at our head office farm located in King City, Ontario. 
The pigs are raised on pastureland with unlimited access to grass, mud, water, and shade. The best part is that the pigs help contribute to Beretta's zero waste goal by eating all the Beretta Kitchen waste. Talk about sustainability!
I hope to continue in my parents' footsteps and bring tasty and humane products to your table. Shop the collection below. 
Enjoy!
Lieschen Beretta
Ranch Manager at Beretta Farms