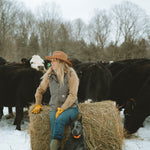 If you don't know me already, I am Lieschen Beretta, Mike and Cynthia's daughter. I am currently the Ranch Manager at our Head Office Ranch in King City, ON and for the record, I am not normally this dressed up when feeding the cattle!
My job varies. We raise not only Cattle on the ranch, but also Pigs, Chickens, Sheep and more! I take pride in show casing animals at the ranch for customers and retailers to see how our animals are treated and raised and what they can guarantee to be receiving. With our ranch now being generational, I am fortunate to be following in my parent's footsteps along with implementing some of my own new ranch practices.
Just like other ranch kids, I grew up watching and helping my dad on the ranch. From calving in the spring, baling hay in the summer and the long winters of thawing frozen water troughs, it is the only lifestyle I've known! Growing up I always wanted to become a veterinarian and I think my parents were hoping to have a vet in the household – because how handy would that be!
On this Blog series, I will speaking about different parts of the cattle and ranching industry from my view and experiences.
If there are questions you have or blog topics you'd like me to touch on– feel free to email me! lberetta@berettafarms.com
BERETTA BEEF PROGRAMS 
I get asked questions daily about our cattle and the programs we have here at Beretta. We fortunately have 3 different programs:
Organic Beef
Antibiotic and Hormone Free Beef
100% Canadian Grass Only Beef (also Antibiotic and Hormone Free Beef) 
My parents started Beretta as an Organic Farm – where the heart of all our standards come from. Our Organic cattle are raised on Canadian Family Farms across Canada on lash pastures where they consume grass and grass forages year-round. Towards the end of their life, a Certified Organic feed is added to their diet.
Next up is our Antibiotic and Hormone Free Beef. This program is our most popular among consumers.  
What does Antibiotic and Hormone Free Beef mean?
Our cattle never receive Antibiotics or Hormones. It is as simple as that. Antibiotics are normally used for 3 reasons:
The Treatment of a sickness
Prevention of diseases/sickness
Enhancing cattle growth
If any of our cattle need to be treated due to a sickness or disease that requires Antibiotics, they are treated by a veterinarian with the needed treatment and removed from our program. No animal is ever left sick. This is a frequently asked question by consumers, and I want to make that very clear! All of our animals are treated with the same humane standards from start to finish. 
Our beliefs are to keep cattle as natural as possible, utilizing the land, implementing natural and humane practices that keep the stress level down to help naturally prevent illness.
Our 100% Canadian Grass Only Beef program is a program I am very passionate about. You might have seen me in the latest A&W commercial talking about the benefits of Grass-fed cattle. Yes, most cattle in Canada are raised on Grass and Grass forages. What is the big deal? The cattle in this program NEVER consume grain. As my famous line in the A&W commercial goes, "Grass. That's it, that's all."
Some call Grass fed Beef a Fad and some believe it's going to change the industry, but for us, it's something that ourselves and our ranchers are pretty damn passionate about and we are happy to offer this program to customers looking for this alternative.
All of our program bragging rights live on the website, but if you have any further questions – always feel free to reach out!